Q: What is Objective Financing?
A: Objective Financing is designed for consumers to purchase consumer durable products at over 5,000 merchants nationwide and pay via flexible monthly instalments.
Q: What documents do I need to submit in order to apply?
A: See below: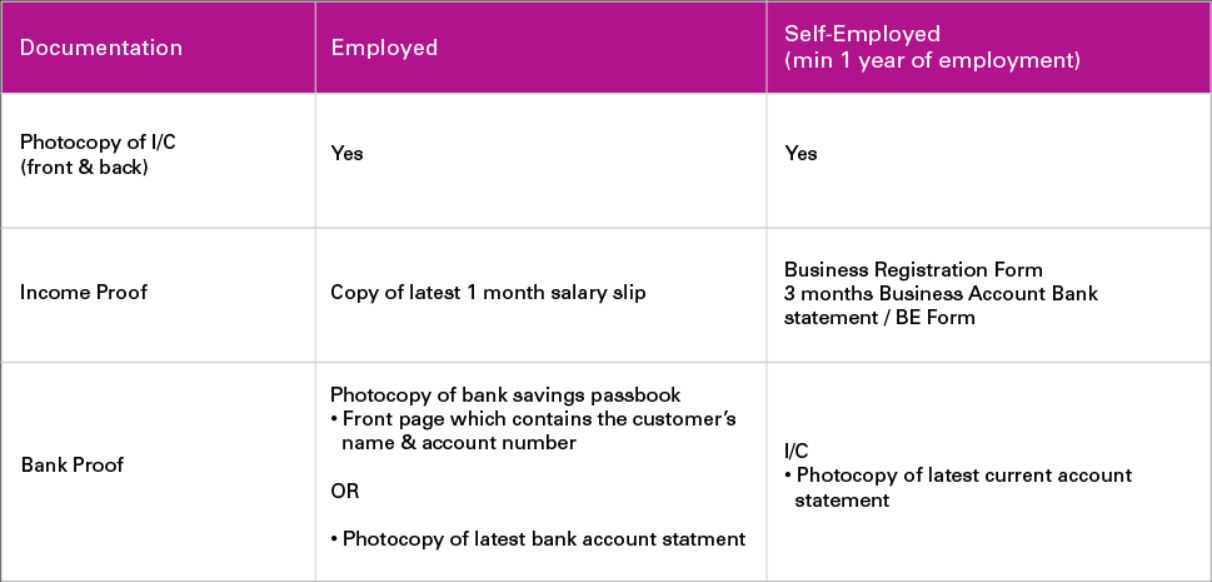 Q: Where can I apply?
A: You can apply at EzBayar website. Select your desired product and click on "APPLY AEON CREDIT"
Q: What products does the scheme finance?
A: The scheme finances consumer products ranging from electrical products such as handphones, home appliance, computers, smart devices (tablets), gadgets, motorbikes, water filters, etc.
Q: What is the repayment tenure for Objective Financing?
A: AEON Credit Service provides flexible repayment tenure of up to a maximum of 48* months.
Q: How long does it take to process a loan?
A:
AEON Express Card Member: 15 - 30 minutes

AEON Ez Apply: 60 minutes

Normal Application: 3 working days
Q: Do I need to provide any guarantor?
A: No.
Q: How do I make my monthly payments?
A: Payment can be made via monthly deduction by autodebit, ACS Service Counters, Cash Deposit Machines, MEP Interbank GIRO or Internet Banking
Q: Will my personal information be kept confidential
A: Yes. AEON Credit strictly complies with the Personal Data Protection Act 2010 (PDPA) and ISO 27001:2005 Information Security Management System.
Q: If I make an early settlement on my loan, will I enjoy an interest rebate?
A: Yes. For more information, please contact our customer service centre at 03-2719-9999